Why should Easter eggs have all the fun? There should be PASTEL for EVERYONE!
While I may have disregarded the pink trend last year, thinking pink hair went out of style along with bands like Simple Plan, the thought of wearing a dainty Easter frock with a candy pink french braid this spring is just too tempting to resist. And so…
Three Simply Ways to Go Pink:
1. Chalk it up!
Lauren Conrad probably sent a wave of women running to the school supply isle to buy chalk last winter, and for good reason; chalk makes a great temporary color! Chalk with water and heat create a temporary tint to the hair that's excellent for vibrant color streaks and highlights.
For all-over, ombre, and dip dyeing, Color Bug uses the same concept of the chalk without the damaging heat. It's a staining powder that, more importantly, comes in lavender and bright pink for your dip-dying pleasure! Plus, putting it on will make you feel daintier than Marie Antoinette.
Sadly Color Bug isn't in stores here in the states…yet, but you can definitely find it online. Here's a tutorial showing how it works.
2. Clip it in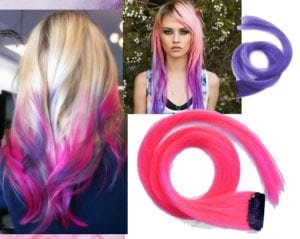 Say you're not a blonde. Or you don't feel like powdering your hair like an 18th century courtesan. You can actually clip extensions in to get this multicolored look. Use color for highlights that pop or combine several colors and taste the rainbow! Easilites are my choice for cheap but easy clip-ins made with human hair so you can curl and style as you wish.
3. Commit to it!
If you're just cool like that or your boss at your job is cool like that, then you should try a semi-permanent pink. Manic Panic in Hot Pink and Raw Color's Candy are two bright and fluffy pink dyes you'll find in your neighborhood Hot Topic. The bottles say they last up to 6 weeks. Don't pay attention to that. It actually lasts up to 3 weeks before it starts to pale. Of course, limiting your number of weekly washes will help.
I bet you didn't know that pink hair was so easy to do. What do you think? Are you going pink this spring?