I can still remember the excitement I felt when the first Harry Potter movie was airing, and the instant fan I became of the then very young Emma Watson. In the past ten years, Emma and the rest of the Harry Potter cast have grown up before the world's eyes, and tonight at midnight, their last movie in the series, Harry Potter and the Deathly Hallows part 2, will be officially released in theaters for the world to see. I am a little nostalgic as this occurs, silly as it may seem, and so was Emma Watson at both premier events in the UK and New York.
I thought a little tribute to her would absolutely be appropriate.
Emma Watson has transformed from a little, frizzy haired girl to a gorgeous, pixie-cut fashion icon actress in the past ten years.
We'll miss you, Hermione Granger!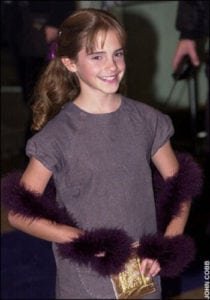 Emma at ten years old, appearing at the London Premier of Harry Potter and Sorcerer's (Philosopher's) Stone. Photo Courtesy of Susilo.Typepad.com.
My what ten years can change! Emma, now 21, wearing Oscar de la Renta, waves to the crowd at the world premier of Harry Potter and the Deathly Hallows Part 2. Photo courtesy of Mirror.co.uk.